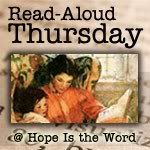 Read-Aloud Thursday @ Hope Is the Word
is a fun weekly meme to showcase the books you are reading aloud to your children. It is so important to continue reading to your kids, even after they've learned to read themselves! Read to them until they move out if you can! I read to my 5 1/2 year old a book or chapter every nite at bedtime, and read to him and his younger brother all throughout the day. Sometimes my older reads to my little, which always blesses my heart! I also use this opportunity to highlight some of the great
Usborne Books & More
titles I have to offer.
We read one or two books each day with our schooling in addition to other books throughout the day or at bedtime. We read books that we have or check out from our library to go alongside the topics we're discussing in science and math. This week we are discussing Seasons, and we read a really cute book yesterday called
A Bear for All Seasons
, written by Diane Marcial Fuchs and illustrated by Kathryn Brown. It's about a Bear who is all snuggled up and ready for his Winter hibernation nap, but is kept up by his Fox friend. Fox keeps reminding Bear about why the other seasons are better than Winter... and then he ends up complaining about each one as well. That doesn't phase Bear, though. He continues to declare that each season is FAVORITE for different reasons, usually based on the foods he eats during those times. It's a sweet story with lovely illustrations of the woods and the friends doing seasonal activities like picking berries, swimming, fishing or throwing snowballs. My son liked this story because he thought it was funny how the Bear was so sure that this season was his favorite, then would turn around and turn his mind declaring that no, THIS season is his favorite. A Bear for All Seasons is a great way to emphasize the features of each of the four seasons while not coming across as a mere book of seasonal facts (my son wasn't as interested in those books this week).
I've started reading to my little one before he goes to bed. I hadn't before simply because it's been a difficult time getting him into a bedtime routine and it was just better for me to put him in his crib and leave him so he could put himself to sleep. Lots of trial and error on that one. But the past few nites, I've taken him alone in his room (Big Brother was occupied playing Angry Birds with Daddy, ha!), sat in the glider and read to him before placing him in his crib. We read
Are You Ticklish?
and
How Do Dinosaurs Learn Their Colors?
. We have many Jane Yolen books, and have always adored them. They were some of the first books that Preston learned to memorize and recite back to me before learning to read them. If you haven't read any of the dinosaur books to your kids, PLEASE find some and do so! They are too fun!
And now a spotlight on an
Usborne
book we read from this week:
Find The Duck
! This book is a crowd favorite amongst kids and parents alike! The kids enjoy finding the little yellow duck (the Usborne mascot!) on each page and get such a sense of accomplishment by doing so! I used this book at a story-time I did a few weeks ago, and the kids went CRAZY. They all wanted to be the first to point on the little yellow guy. Honestly, I'm not sure they heard any of what I read from the book, they were too busy yelling "THERE HE IS!" but it was such a lot of fun anyway! The kids even took turns with it after I was done reading it to them so they could look for the duck on each page themselves. I love the interactive books that get kids excited like that! There are several other books in this series as well. You can
Find the Teddy
,
the Kitten
,
the Bird
,
the Piglet
and
the Puppy
. The illustrations are all equally adorable and fun! The little yellow duck is a reoccurring character in several Usborne books, including the
The Complete Book of Farmyard Tales
, where he appears on every page!