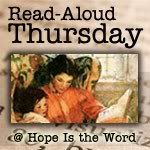 Read-Aloud Thursday @ Hope Is the Word
is a fun weekly meme to showcase the books you are reading aloud to your children. It is so important to continue reading to your kids, even after they've learned to read themselves! Read to them until they move out if you can! I read to my 5 1/2 year old a book or chapter every nite at bedtime, and read to him and his younger brother all throughout the day. Sometimes my older reads to my little, which always blesses my heart! I also use this opportunity to highlight some of the great
Usborne Books & More
titles I have to offer.
Today is the FIRST day of FIRST GRADE for my oldest! I am so excited to get started, and cannot wait to share about our successes (and failures, eek!). But first, here's what we've been reading aloud this week:
We actually got this book last year but didn't start it until just a few days ago. Preston earned it as part of Borders Summer Reading Program (aww, poor Borders are soon going to be no more!). There weren't a lot of choices available for his age, but I figured he'd grow into it. The book is called
Miss Daisy is Crazy!
It's the first installment of the "My School is Weird" series, written by Dan Gutman. It is about a 2nd-Grade class that gets a teacher who, according to them, is "dumb." She apparently doesn't know anything about reading, writing or arithmetic! In fact, her students know more than she does and they have to teach her! Now, I wasn't exactly thrilled to read the part where the kids were saying their teacher was "dumb." I explained to my son, we don't call people that! We are nearing the end, and I don't know for sure, but I'm HOPING that Miss Daisy turns out to be smarter than she lets on - and that she is, in fact, teaching her students more than they realize!
And now a spotlight on an
Usborne
book we read from this week:
Mini Stories From Around The World
! This is a fun "little" book (5 5/8 x 7 inches) with 22 traditional stories of heroes, strange creatures, magic, myths and fables from all around the world, including Morocco, Greece, Spain, Japan, Scandinavia, Italy and so many other places. There is even a fun world map in the front so you can show your child where the story is from! You can actually take a little peek inside of this book to see how lovely the illustrations are,
click here
. I have discussed with Preston about fables and legends, so he understands that just because this story says this is the way a bird got his bright feathers, does not make it true. God gave birds those bright feathers! It is interesting to read different stories from various cultures and how they try to explain things (like the birds getting bright feathers from a snake that ate colorful flowers.... lol!). Since this is a mini version of this book, I'm sure there are more details to these traditional stories that are not included, but having them in this version makes for an an easy and quick read for younger children. There is also a
full size version
of this book available if you prefer to have it slightly bigger. Some other titles in this series include
Stories from India
,
Greek Myths for Young Children
,
Mini Greek Myths for Young Children
and
Aesop's Fables
.