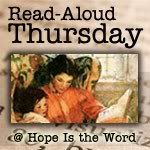 I recently found out about this weekly meme, called
Read-Aloud Thursday @ Hope Is the Word
(found it via
Homegrown Learners
, oh how I love my homeschool bloggers!). I am excited to take part because I love reading aloud to my kids. And also, I'd like to highlight some of the great
Usborne Books & More
titles I have to offer. There are so many good ones available!!!
Last week we started on Hank The Cowdog #6
Let Sleeping Dogs Lie
. I'm telling you, my kid is on a Hank kick! Sadly, we only have #7 and #11 in our collection left to go, so I'm hoping our library has some we can borrow so we don't get out of order! This book is about Hank's misadventures trying to solve a case (aren't they all?!?)while feeling run down. He thinks he might be dying, or at least gravely ill. And there's even a slight possibility that HE'S the culprit! What?!? We'll have to keep reading to find out what happens!!!
And now a spotlight on an
Usborne
book we read this week:
How Big Is A Million?
This books is about an adorable little penguin called Pipkin! He is on a quest to find out what a million looks like. Well, have you ever seen a million of something? Exactly. So, he visits many animals friends and they show him things like "10" or "100," but will he find someone who is able to show him "1,000,000?" Here's a hint: Yes! And, included with this soft-covered book is a pull-out poster that shows you (yes, you guessed it!) ONE MILLION! Now, I don't want to give away what you'll see... 'cause it's very exciting to find out for yourself. But it's rather amazing to actually have something to look at that shows you exactly what one million looks like. It's mind blowing!
Here's a peek
inside of this book so you can see just how sweet the illustrations are! Pipkin is a very curious penguin and is featured in several other Usborne books, including
How Big Was a Dinosaur
?,
How Deep is the Sea?
and
How High is the Sky?
and each of these books comes with a pull-out poster too! Check out my Usborne online store at
www.HeyJadeBooks.com
.