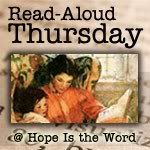 I recently found out about this weekly meme, called
Read-Aloud Thursday @ Hope Is the Word
(found it via
Homegrown Learners
, oh how I love my homeschool bloggers!). I am excited to take part because I love reading aloud to my kids. And just the other day I was asking my friends on Facebook what they are reading aloud to THEIR kids. And I also, I'd like to start highlighting some of the great
Usborne Books & More
titles I have to offer. There are so many good ones available!!! So, this is perfect for me!
We finished up Hank The Cowdog #5
Faded Love
early this week, and will be starting on #6
Let Sleeping Dogs Lie
soon enough. We don't get many days in between Hanks, that's for sure. Preston won't allow it! He read a book to me last nite, though. It's called
How to Catch a Star
, written by Oliver Jeffers. This is a book about a little boy that dreams of catching a star to have as a best friend, but his plans are foiled by logistics. The star is really high up there! He tries to recruit a sea gull for help, attempts to lasso it with a heavy life preserver and other such brilliant ideas, but to no avail. I won't give away the end, but I will tell you that this is a really cute book. The illustrations are lovely, and the little boy's ideas are intriguing and humorous. My son loves this one!
And now a spotlight on an
Usborne
book we read this week:
The Wizard of Oz
! This book is probably a lot more like the original story written by L. Frank Baum, because it doesn't follow closely to the movie we all know and love. That made it actually more interesting to my 5-yr-old because he is pretty familiar with the movie, and he was surprised each time something I read wasn't what he remembered! It kept him on his toes! This book is hardback, but paperback sized, and the illustrations often take up the entire page to make it a really fun book to look at and read! This book is part of the Usborne
Young Reading Series Two
books, which also includes Pinocchio, Beauty and the Beast, Alice In Wonderland and other great classics retold! Usborne has a fantastic
Reading Program
with many different levels of books! Check out my Usborne online store at
www.HeyJadeBooks.com
.