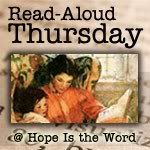 I recently found out about this weekly meme, called
Read-Aloud Thursday @ Hope Is the Word
(found it via
Homegrown Learners
, oh how I love my homeschool bloggers!). I am excited to take part because I love reading aloud to my kids. And just the other day I was asking my friends on Facebook what they are reading aloud to THEIR kids. And I also, I'd like to start highlighting some of the great
Usborne Books & More
titles I have to offer. There are so many good ones available!!! So, this is perfect for me!
Both last week and this week we have been off our regular routine, so Preston has been getting to bed later than usual. That means we haven't done our nightly reading regularly and are still reading Hank The Cowdog:
Faded Love
. We are about to finish it, though. Which means we'll be moving on to the next one!
[image from Amazon.com]
When I was attempting to rearrange the kitchen a bit to help accommodate our homeschool needs, I decided to make the two bottom shelves of our hutch for the baby. 'Cause, well... he is gonna get into whatever is there anyway, might as well be his. On one shelf I put a box of his big Duplo Legos, and on the other shelf I brought in a bunch of his little board books. He's been enjoying making a giant mess of both these past few days. But earlier I caught Preston reading one of the books to his little brother. So precious! They were reading
I'd Be Your Hero
, a sweet story of a little boy telling his mama all about how he would be a good hero using scripture to reinforce godly character traits.
And now a spotlight on an
Usborne
book we read this week:
The Complete Book of Farmyard Tales
! This is actually a collection of 20 Farmyard Tales that are also sold individually! It contains stories about a sweet family and some pretty special animals, including Curly The Pig, Wooly The Sheep and Rusty The Dog. This particular edition of the book comes with a CD that features a man reading the stories in a soothing, English accent and has sounds effects and music to go right along! Another great benefit of this book is that it can be used it multiple ways. There is a line of the story that runs along the top of each page, and then more at the bottom of each page. The lines at the top tell a complete story if read alone, and the lines at the bottom add detail. So it can be a short story or a long story. Or, your child can read the top line and you can read the bottom part! This, like a lot of Usborne books, features a little duck hiding on each page - which makes it a lot of fun for little ones who love to play hide and seek!