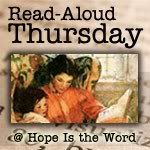 Read-Aloud Thursday @ Hope Is the Word
is a fun weekly meme to showcase the books you are reading aloud to your children. It is so important to continue reading to your kids, even after they've learned to read themselves! Read to them until they move out if you can! I read to my 20-month old at naptime and bedtime and to my 5 1/2 year a chapter from a book every nite at bedtime, and read to both of them all throughout the day. Sometimes my older reads to my little, which always blesses my heart! I also use this opportunity to highlight some of the great
Usborne Books & More
titles I have to offer.
My little one has been demanding more and more books lately. And the other day he literally dragged a large book over to me, crawled up in my lap, opened it up to the first page, pointed and said, "Book!" Ok, ok! Lol. He had brought me a soft-covered book called
Sweet Dreams, My Little One: A Treasury of Stories for Bedtime
. So, it wasn't bedtime. Oh well. This book actually contains four stories: "Can't You Sleep, Dotty?" by Tim Warnes (about a puppy who just can't fall asleep); "Little Bunny's Bathtime!" by Jane Johnson (one little bunny gets out of taking a bath, or so he thinks!); "Time to Sleep, Alfie Bear!" by Catherine Walters (Alfie wants to be like all the other animals that don't have to go to bed!); and "Two Hungry Bears" by Linda Cornwell (a big bear and a little bear each go to buy food for the other, then end up eating it all... and for a good reason!). Each story offers adorable illustrations and sweet characters. Our favorite was "Two Hungry Bears," which also happens to be illustrated by Jane Chapman who does all those other
Bear Books
that we love around my house! It's a funny, little story and just perfect for bedtime. Callen has really enjoyed all of the stories in this book... he likes to point out all the animals scattered throughout the drawings.
Since Thanksgiving is right around the corner, I went to the library to pick up a few stories for us to read this week and next. Nearly all the Thanksgiving storybooks were checked out already, but I tracked down this really neat booked called
The Harvest Feast: Stories of Thanksgiving Yesterday and Today
, compiled by Wilhelmina Harper. The book was originally published in 1938, with this revised version from 1965. There aren't many illustrations, so I was wondering if my littles would be interested in sitting for so long to listen to a story. Callen wasn't, but Preston was completely enthralled! The first story we read from the book was called "Indians for Thanksgiving" by Dorothy Heiderstadt. A sweet tale of pilgrim children being kind to little, lost indian boy who turns out to be son of the chief that was leading his warriors to wipe out the colony! But, since they were kind and helped the lost boy, the chief made peace with the village instead. I can't wait to read more of this intriguing book out loud with my family as we draw near to Thanksgiving. This collection offers historical writings, poems, fables and "contemporary" (for 1938!) stories.
And on that note, it's time for a spotlight on an
Usborne
book we looked at this week:
Then and Now
! This isn't really a story book, exactly, but it's a lot of fun to read anyway! It features an example of life from back "then" and compares it to "now." For example, a school room from "then" featured wooden benches and pens that had to be dipped in ink. Meanwhile, a school room from "now" features tables, chairs, brightly colored posters and fish tanks. Each page also has discussion starting questions, like "Can you find the teacher? What is she doing?" These questions are designed to get your child thinking about how things have changed in the world. It's very interesting for young kids to learn that things were not always like they are now. The book also includes scenes from a railway station, the seaside and several rooms in a home, plus much more. It is a thin, paperback book... but something a child will most likely want to look at again and again. There is a lot of action in each picture, and lots of things to discover throughout! See an example of what the pages are like:
click here
. (Please note: The
description of the book
on the Usborne website is incorrect. This book does not address fashion, nor does it have fold-out pages. Oops!)
[This post does contain affiliate links. If you purchase a product through a link clicked here, I do receive a small compensation, and I want you to know I greatly appreciate it!]