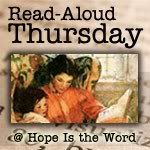 Read-Aloud Thursday @ Hope Is the Word
is a fun weekly meme to showcase the books you are reading aloud to your children. It is so important to continue reading to your kids, even after they've learned to read themselves! Read to them until they move out if you can! I read to my 20-month old at naptime and bedtime and to my 6-year-old a chapter from a book every nite at bedtime, and read to both of them all throughout the day. Sometimes my older reads to my little, which always blesses my heart! I also use this opportunity to highlight some of the great
Usborne Books & More
titles I have to offer.
Last nite my little one brought me
The Poky Little Puppy
to read for bedtime. Oh my goodness, my older son made me read this particular book to him every night for nearly 6 months! It's a good thing I love that Poky Little Puppy! He takes me back to my childhood... I used to have a record with stories and songs on it, and this was one of them. I still get that song stuck in my head, "Where in the world is that Poky Little Puppy? Where in the world is he?" Lol. It's just a sweet little story, with a lesson to be learned. Anyway, both Preston and Callen cuddle with me on the couch as we went through the exciting adventures of those naughty puppies!
And for Preston's bedtime last nite, I picked up a story book called
Goodnight, Me
! This a book all about an adorable orangutan telling each of his body parts that it's time for bed! This book, written by Andrew Daddo, is so sweet, I almost can't stand it. Haha. "Legs, get some rest. We've got a lot of jumping to do tomorrow." And as he progresses, he, of course, gets sleepier and sleepier. I like this one because it can be interactive, but doesn't get my kiddo wound up... but rather, nicely wound down and ready for bed! For each body part, I have him raise it or point to it and repeat the words so that he's telling HIS body to go to sleep. It's pretty darn cute!
Now it's time for a spotlight on an
Usborne
book we looked at this week:
Beauty & the Beast
! This is a beautifully illustrated story book of the classic tale. There are many versions of Beauty & the Beast, and, according to the back of the book, this one closely resembles a retelling of the story from 1765 by a French writer by the name of Marie Le Prince de Beaumont, though written down by Gabrielle Villeneuve. It is not the same as the Disney version, just FYI. Which, personally, I think makes it more interesting - I like hearing different versions of well-known stories like this. My favorite thing about this particular Usborne book is the gorgeous illustrations throughout. Every page is covered in vividly colorful scenes of what is going on in the story. See an example
here
and
here
. It certainly helps keep your reader's attention. This book is part of the Usborne Young Readers Series Two. Read more about our wonderful reading program
here
.
[This post does contain affiliate links. If you purchase a product through a link clicked here, I do receive a small compensation, and I want you to know I greatly appreciate it!]