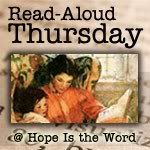 Read-Aloud Thursday @ Hope Is the Word
is a fun weekly meme to showcase the books you are reading aloud to your children. It is so important to continue reading to your kids, even after they've learned to read themselves! Read to them until they move out if you can! I read to my 21-month old at naptime and bedtime and to my 6-year-old a chapter from a book every nite at bedtime, and read to both of them all throughout the day. Sometimes my older reads to my little, which always blesses my heart! I also use this opportunity to highlight some of the great
Usborne Books & More
titles I have to offer.
Christmas Book Basket!
I gathered up a bunch of our Christmas books this week and put 'em in a basket in the living room so that the kids could look through 'em as they wanted. And we have spent a while reading through some of them together. This evening, Preston, my 6-year-old, read me
The Night Before Christmas
, and I read him the Texas version! Lol. Then, for bedtime, I read my 21-month-old
God Gave us Christmas
. I noticed that it has a lot of references to the Names of Jesus, which we are doing as our
Advent/Christmas Countdown
this year, like "Light of the Word" and "King of Kings"... so I might be re-reading that one to Preston soon!
Several years ago, I found a neat booked called
The Homeless Christmas Tree
. This book was a wonderful find because I actually know where this tree is in Fort Worth, Texas! It's based on a true story, and you can drive by the actual tree at any time of the year and see it "dressed" for whatever holiday is closest! I always wondered about the history of that tree, and was quite surprised to find a book on it! Super neat!
And, of course, I have to talk about some
Usborne
books. A lot of the Christmas titles went out of stock even before Thanksgiving, but I got my hands on the Advent Calendar to Color and 1001 Christmas Things to Spot. We have been having a blast with those these past few weeks! Both boys enjoy coloring in the Advent flaps and looking at all the busy pictures in the spotting book. Usborne has some wonderful Christmas titles... stories, activities, cook books, games, coloring books, cards and so much more! There's still time to order for Christmas, too! Orders up until December 20th, are most likely going to be delivered before Christmas Eve!
www.HeyJadeBooks.com
Here are all the books currently in our Christmas book basket:
Check back next week for another basket-load of Christmas reading!
[This post does contain affiliate links. If you purchase a product through a link clicked here, I do receive a small compensation, and I want you to know I greatly appreciate it!]